L'un des petits plaisirs de mes soirées d'automne est de m'installer sur mon fauteuil avec une chaude doudou et ma télécommande pour regarder la télévision. Cet automne, j'ai été gâtée parce que ma télé m'offre plein de bons produits.
Un souper presque parfait
Une belle émission qui nous accompagne tous les soirs pendant la préparation du repas. Une émission qui nous permet de laisser notre cerveau à
off
après une dure journée de travail et de découvrir de nouveaux idiots qui cuisinent mal ou d'autres qui ne se lavent pas les mains. Les commentaires du narrateur André Ducharme sont savoureuses!
Les Détestables
Nouvelle émission présentée à V qui met en vedette des personnes du troisième âge qu'on qualifie de détestables. Ils commettent des coups pendables, racontent des trucs osés ou agissent simplement sous le coup de l'impulsion. Une émission qui me fait mourir de rire et qui m'a fait découvrir la talentueuse Carmen Sylvestre! Je ne sais pas comment les comédiens font pour garder leur sérieux. De cette émission, je retient la phrase célèbre de Carmen : « Es-tu tounu? ».
Price is right À vous de jouer
Nouvelle émission également présentée à V et mettant en vedette un de mes humoriste préféré : Philippe Bond. Une émission simple, tout le monde connaît le concept américain qui a fait ses preuves pendant des décennies. Les participants déchaînés sont drôles à voir!
Taxi payant
J'adore ce quiz intelligent animé de brillante façon par Alexandre Barette! En prime, je suis bonne pour répondre aux questions à la place des candidats!
Occupation Double
Depuis maintenant 8 saisons, nous sommes accros aux célibataires les plus hots du Québec. Cette année, l'action ne lève pas autant que lors des années précédentes mais l'animateur Pierre-Yves Lord fait un travail remarquable! Le téléroman des années 2000 est une téléréalité! On analyse les gestes des candidats et on juge beaucoup aussi!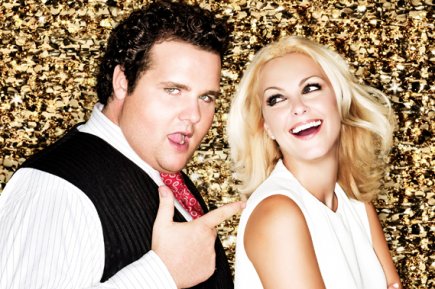 Les enfants de la télé
Mon émission préférée!!!! J'adore le duo d'animateur! Véronique Cloutier et Antoine Bertrand font un job d'enfer! Ils sont drôles et pertinents et ils ont tellement l'air de s'amuser sur ce plateau! Un excellent concept français adapté à la sauce québécoise!
Ça finit bien la semaine
Une émission que je tente d'écouter quand le temps me le permet. J'ai adoré les semaines où Patricia Paquin a animé l'émission. Je trouve qu'on devrait la voir plus souvent à la télé!|
The Sing Off et X Factor
J'adore les téléréalités qui recherchent les nouveaux talents dans la chanson. Dans The Sing Off, les groupes interprètent des chansons a capella, c'est assez impressionnant. J'aime que dans X Factor, c'est qu'il y a des gens de tous les âges, des hommes, des femmes, des jeunes, des groupes.
Gossip Girl
Mon émission américaine favorite! Je suis tellement attachée aux personnages. J'adore Serena et Blair. J'ai un faible pour le beau Dan et Chuck ne cesse de me surprendre! Ma série coup de coeur des dernières, je rêve de remettre les pieds à New York pour me plonger dans l'atmosphère des Upper East Siders!